"

Music is the literature of the heart, it commences where speech ends."
— Alphonse de Lamartine



Linda first learned to read music at the piano at age 5. By age 9, she was deeply aware that she was meant to be a flutist! And so began her private studies, which eventually directed her to Long Island University where she studied with Flutist, Dr. Susan Deaver.  Linda graduated from Magna Cum Laude, from Long Island University, with a Fine Arts degree in Music Performance.  Her name appeared in the 1987 edition of Who's Who Among Students in American Colleges and Universities.  She has performed as flute soloist and collaborative artist in numerous churches and special life events, since age 10.  One of her most memorable church performance memories took place at St. Patrick's Cathedral in NYC.   

In addition to performing, Linda is a passionate advocate of music education for children. Linda discovered her gift for working with children in her early teens.  She began instructing young flute students when she was only 15 years old. Since then, her most enthusiastic flute students have participated in All-District, All-State, and Regional area music events, including the Charlotte Symphony Youth Orchestra and the Charlotte Wind Ensemble.  

While the flute is her primary instrument, Linda also enjoys using the piano and electric keyboard, for teaching young children to find their own joy in making music.  The art of teaching a child to read music has been a life-long joy for Linda.  No two children learn to read music exactly the same way, therefore,  she personalizes her teaching approach to each child's unique learning style.  Linda truly enjoys the challenge of unlocking the mystery of note reading for each student.

Mrs. Dumizo is the proud mother of two adult children. Her son Brian, served in the US Military, then graduated from CPCC and now lives and works in Charlotte, NC, as an IT Specialist.  Her daughter, Kimberly, graduated with honors from UNC-Asheville where she earned a degree in Literature and Creative Writing.  She lives and works in Raleigh, NC.  Linda's husband, Joseph, is a realtor. Together they enjoy making home-made wines, boating, walking, going to concerts and spending time with family and friends.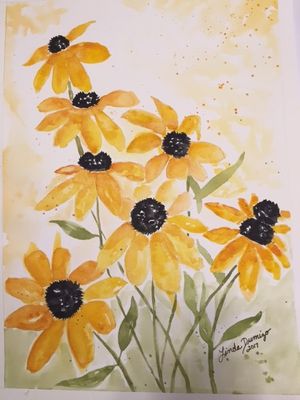 Linda's name appeared in the 1987 edition of Who's Who Among Students in American Colleges and Universities. While growing up, Linda studied with Phil Stentz and Jan MacDonald. At age 15, she studied through the summer semester with Mindy Kaufman, flutist with the NY Philharmonic. While earning her performance degree, Linda studied flute with Dr. Susan Deaver, and performed in master classes for nationally known flutists: Alice Weinreb, Ransom Wilson, Bradley Garner, and Harvey Sollberger.

Linda gives credit to her mother, Florence Brady, retired church organist, for teaching her to read music.  She thanks both her mother and late father, Robert Brady, for providing her with music lessons, flutes, and a childhood full of creativity!
In addition to her musical endeavors, Linda enjoys drawing, painting and making handmade note cards.  You can email Linda for special orders: art@LindaDumizo.com.