"

Music is the literature of the heart, it commences where speech ends."
— Alphonse de Lamartine
Linda Dumizo began her musical studies at the piano at age 5, and by the age of 9, she felt a deep inner calling to become a flutist. She began studying flute privately with Phil Stenz, then with Jan MacDonald and finally with Dr. Susan Deaver at Long Island University. By age 15, Linda was teaching  2 young flute students which is when she discovered her passion for teaching. Linda has joyfully influenced and nurtured the lives of hundreds of children and young adults, through her gifts of teaching and encouragement. Linda's top performing flute students have performed with and participated in the Charlotte Symphony Youth Orchestra program, the UNCG Summer Camp, and the Charlotte Youth Wind Ensembles. 

While much of Linda's focus has been on her private teaching career, she has performed with community music groups while living in New York, Florida and North Carolina. She most enjoys playing with small chamber ensembles, and especially loves the sound of the flute combined with classical guitar, harp and strings.

Linda graduated Magna Cum Laude from Long Island University with a BFA in Music Performance. Linda has enjoyed the honor of performing in Flute Master Classes with Ransom Wilson, Bradley Garner, Harvey Sollberger, Alice Kogan Weinreb as well as private lessons with Mindy Kaufman of the New York Philharmonic, and with many other gifted and talented flutists over the years. 

Linda personalizes her teaching approach to fit each child's unique learning style, and she truly enjoys the challenge of unlocking the mystery of note reading for each student she teaches.
 
Linda and her husband Joseph, create their home in North Charlotte. Joseph is a Realtor, Broker-In-Charge and Owner of Premier Choice Realty.  Linda assists with the firm's administrative duties. Together, they flip homes, and manage a vacation rental property which they own in Sunset Beach, NC. Linda enjoys creating fine art using acrylics and watercolor paints. Together, Linda and Joseph have 5 adult children, and 5 active grandchildren.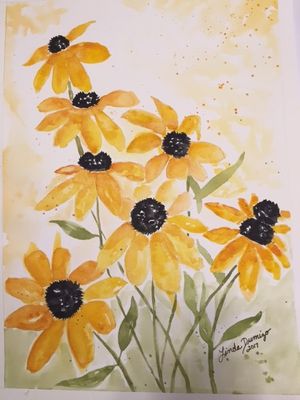 Linda gives credit to her mother, Florence Brady, retired church organist, for teaching her to read music.  She thanks both her mother and late father, Robert Brady, for providing her with music lessons,  flutes, and a childhood full of creativity!
Linda Dumizo currently plays a Custom Handmade Sterling Silver Flute made by Verne Q. Powell.
View more of Linda's artwork online at Linda-Dumizo.pixels.com